Cancer Screening
What is cancer?
The organs and tissues of the body are made up of tiny building blocks called cells. Cells in different parts of the body may look and work differently but most reproduce themselves in the same way. Cells are constantly becoming old and dying, and new cells are produced to replace them. Normally, the division and growth of cells is orderly and controlled but if this process gets out of control for some reason, the cells will continue to divide and develop into a lump which is called a tumour. Tumours can either be benign or malignant. Cancer is the name given to a malignant tumour.
In a benign tumour the cells do not spread to other parts of the body and so are not cancerous. However, if they continue to grow at the original site, they may cause a problem by pressing on the surrounding organs.
It is important to realise that cancer is not a single disease with a single type of treatment. There are more than 200 different kinds of cancer, each with its own name and treatment.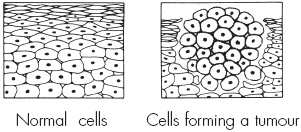 ---
Types of cancer
Carcinomas
About 85% of cancers are carcinomas. They start in the epithelium, which is the covering (or lining) of organs and of the body (the skin).
Sarcomas
These form in the connective tissues of the body such as muscle, bone and fatty tissue (6% of cancers).
Leukaemias/Lymphomas
These occur in the tissues where white blood cells (which fight infection in the body) are formed, i.e. the bone marrow, and lymphatic system (5%).
Others forms of cancer
Brain tumours and other rare forms of cancer make up the other 4% of cancers.
Who gets cancer?
1 in 3 people will develop cancer during their lifetime, but cancer is not common in children or young people - it mainly occurs in the later years of life. Cancers can occur at any age, but the risk of developing cancer increases with age. Over 70% of all newly diagnosed cancers occur in people aged 60 years or more.
Some cancers are very common and others are very rare. The most recent statistics for the UK show that for men the most common cancer is lung cancer (19%), followed by prostate cancer (17%), large bowel cancer (14%) and bladder cancer (7%). For women the figures are breast cancer (29%), large bowel cancer (12%), lung cancer (11%) and cancer of the ovary (5%).
Many people with cancer can be cured. Even if a cancer cannot be cured, it can often be controlled with treatment for months or years.
Why do cancers come back?
A cancerous (malignant) tumour consists of cancer cells which have the ability to spread beyond the original site. If left untreated they may invade and destroy surrounding tissues. Sometimes cells break away from the original (primary) cancer and spread to other organs in the body by travelling in the bloodstream or lymphatic system. When these cells reach a new area of the body they may go on dividing and form a new tumour, often referred to as a "secondary" or a "metastasis".
How is cancer treated?
The main types of treatment for cancer are described below:- Active surveillance (or watchful waiting)
Some types of cancer grow very slowly and may cause no problems for many years. In this situation you may not need to have any treatment for some time, but your doctor will monitor you closely so that if the cancer does start to grow you can be given treatment at that time.
Surgery
An operation is done to remove the tumour. Surgery is often used if the cancer is only in one area of the body and has not spread. It may be used to remove lymph nodes if these are also affected by the cancer. It can sometimes be used to remove a cancer that has spread to another area of the body, but this is not common. The type of operation will depend on the area of the body affected by the cancer, and on the size and position of the tumour.
Radiotherapy
This is the use of high energy x-rays to destroy cancer cells, but cause as little harm as possible to normal cells. The radiotherapy is aimed at the affected area of the body and is very carefully planned. It can cause side effects and the most common is tiredness. The side effects will depend on the part of the body that is being treated.
Chemotherapy
Chemotherapy is the use of anti-cancer (cytotoxic) drugs to destroy cancer cells. There are more than 50 different chemotherapy drugs. Some are given as tablets or capsules but most are given by drip (infusion) into a vein. The drugs go into the bloodstream and travel throughout the body to treat the cancer cells wherever they are. Sometimes just one chemotherapy drug is used, but often a combination of two, three or more drugs is given.
Chemotherapy can cause side effects. The side effects will depend on which drug (or combination of drugs) is used. There are now very good ways of preventing or reducing the side effects of chemotherapy.

Screening for Cancer
Screening aims to detect cancer at a very early stage, it does not prevent cancer.